Well-known Member
Masternode Owner/Operator
Feb 19, 2017
547
513
163
Dash Address

XpoZXRfr2iFxWhfRSAK3j1jww9xd4tJVez
As you are no doubt aware, the devs over at DCG are still working on delivering Evolution with no end to sight in the development and constant delays, failed deadlines and broken promises, confidence in the team is completely shattered and DCG's approval rating is falling off a cliff once more as wave after wave of no votes rain down on their egregious proposals. Let's back up a bit and ask ourselves if this situation is unique to Dash, or can we find other examples of this in the wild and if we can what lessons can we learn from them and what can we do to help improve the situation?
I have long been fascinated with the story of Titanic
https://www.imdb.com/title/tt0051994/
and several years ago when I learned that a game was being developed that would faithfully re-create the ship in exquisite detail, well I was immediately smitten with the project.
https://www.titanichg.com/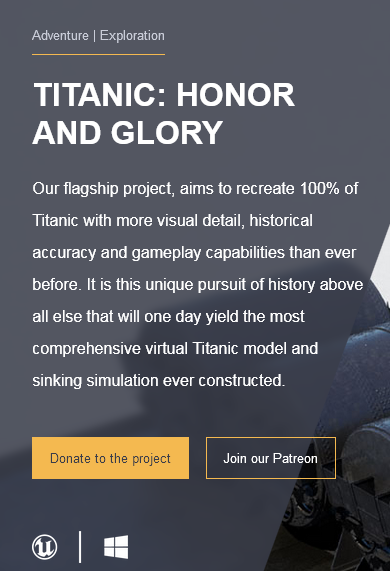 To date the project has been going for 10 years, it has undergone a team change, it has been re-based to several different game engines, most recently from UE4 to UE5, the game has even pivoted from a regular game with NPC of your favourite historic characters from the actual ship to now an empty vessel to walk about on your own. The team have had several successful fund raisings, investments and donations and of course blown through all that money and still not delivered anything (to steam) and only have demos, while impressive, the actual game is still not done and there is no ETA, sound familiar?
Download and play the amazing demo for FREE on your DX12 capable device!
https://www.titanichg.com/demo-401
Over in Dash's DCG, we have much the same, a team that has turned over, Andy CTO, Bob CTO, Sam CTO. We have pivoted from just usernames in a block, to whole new sidechain and extensive data contracts, proofs and invented a whole new database. We are nowhere near delivery, we are 10x over budget, we started over at least once, we moved from js to rust all before delivering a single thing to mainnet.
What common issues do these teams have and why are neither team able to deliver shit much to the fury and frustration of the end users?
Neither team have any managers, both are dev heavy with little to no over sight.
Both teams love the work they are doing and are perfectionists and simply not satisfied with 'good enough' and will only settle for 'best'.
Neither project was specified, planned or in anyway scoped at the start to define what was expected to be built, under what constraints and what the outputs would be. This in-determinant scope lead to scope and feature creep and the lack of planning lead to the inability to estimate dates and resource the projects adequately.
Both teams have poor internal communication, one group of guys agree on one thing and another on another thing and later this creates a problem when the decision is found to be wrong.
Both teams are disorganised, lacking protocols, procedures and methodology to effectively move the project along with minimal re-work and forgetting certain tasks etc.
There may be even more issues.
Possible solutions.
Add managerial roles to the team, CEO, new CTO, product owners, Team Leads, Project Manager, Scrum Master. These will help with keeping the devs focused on work, help them better interoperate with others, have a big picture view of the project to help breakaway the silos, cut down on scope creep, enforce procedures, help with non-dev stuff freeing devs to dev.
Improve comms.
Document EVERYTHING.
Make check lists and flow charts for everything, devs will complain vehemently over this one, force them to do this, another issue we have in Dash is the It's all in my head issue, where in order to protect their position, the dev refuses to write down what they know and share knowledge of their specific area. Document it, or get out!.
Be accountable, managers will ensure that devs are accountable to estimates, doing work and if something slips we go back and find out why and put procedures in place to avoid that, or resolve whatever issue caused the delay from impacting us again. In Dash, I see the same mistakes made over and over again.
In conclusion, neither team is evil or scammers, both teams are well meaning, but way in over their heads and seemingly unable to help themselves. Both teams are ripe for strong leadership and massive overhaul in the way they work in order to truly start collaborating and working more efficiently. Both teams are scared of this and fear changes, though those fears are misplaced since it must be way nicer to have a flock of pleased fans, than a mob of pissed of people who feel shat on and cheated by these teams that appear to have no regard whatsoever for the victims of their folly.
-Xk.