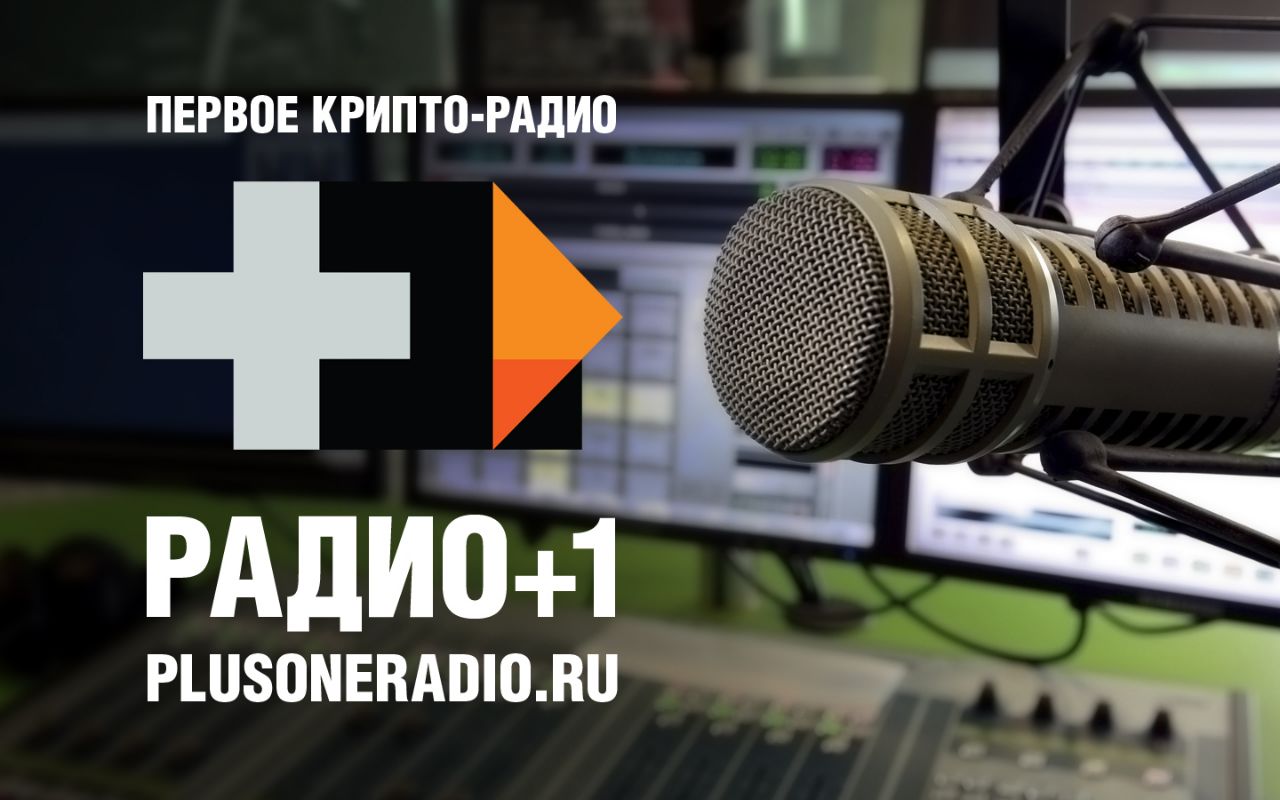 Hello friends! Hello colleagues! Always welcome DASH community!​
For those who don't know us, let's get acquainted! We are "Radio +1", the first cryptoradio in the world.
If officially:
"Radio +1" is the first multimedia project about crypto-economics with round-the-clock broadcasting radio.
We live on the Internet, and we can be heard on the following resources:
http://plusoneradio.com
http://plusoneradio.ru
http://plus1radio.ru
Live ether chat in Telegram:
t.me/plus1radio
Live ether phone:
+7 (965) 777-30-33
Link to the information stream:
http://live.plusoneradio.info/Plus1radio
Link to the music stream:
http://plus1radio.ru:8000/airtime_128_mp3
You will be informed about launching our accounts in social networks in the nearest future.
Every day, a team of professional journalists creates a tool for effective work of entrepreneurs and specialized professionals in the areas of finance, technology, cryptocurrency and blockchain.
The new economy, its formation, principles of work, mutual influence on financial, political, social life in Russia and in the whole world are in the focus of the editorial attention. The operational news of crypto-economics and reviews of important world events every half a hour are available for listeners, as well as conversational and analytical programs.
"Radio+1": A new generation of information!
​
The launch of the Russian-language broadcast is the first step in project development. In the coming months, it is planned to launch an English-language radio and a website. Further the project will be scaled by franchise to Chinese, German, French, Portuguese, and Spanish.
Preliminary agreements on partnership with profile information projects have already been reached and agreements are being formalized.
Tired of the information flow? No problems! By pressing one button the listener can change the information stream to a musical one and evaluate the author's selection of music outside the framework of musical styles and formats.
Our achievements and plans can be found in
our current report
.
Reports on the progress of our project are being implemented at
dashwatch.org
are published every last week of the month.
Radio+1 is legally registered at Plus One Media Group LLC in accordance with the legislation of the Russian Federation and is being registered with Roskomnadzor as official media.
The project was implemented with the support of the DASH community, and its launch was funded from the DASH treasury. The progress reports on the implementation of our project,
on DashWatch.
Our pre-proposal discussion at Dash forum
.
Discussion for previous budget proposal, which has passed voting.
Also our proposal was discussed in Russian, Spanish, German, English forums at Dash Forum, in Telegram App, Reddit, BitcoinTalk forum and Discord App (DashNation server).
Radio+1
fans are launched an independent discussion
of our project at BitcoinTalk:
Mass-media about us:
Interview on rucrypto.com
Release on cryptonomica.info
Release on Financial and Investments forum mmgp.ru
Release on Financial forum BizChat
Post about us on Cryptocurrencies.RF
Release on Cryptocurrencies.RF
Our broadcasts are available at:
BitradIO - informational channel, live ether
BitradIO - our music channel
RadioGarden - informational channel, live ether
Start of the video stream of our broadcasting is planned in the nearest future, as well as the broadcast of our air in a separate channel in cable and smart TV.
How we planned this project:
How the project has been launched:
Our news is published on the radio every 30 minutes, as well as published on our website, Russian DASH forums, and on golos.io
The news line is formed from
primary sources
(speeches of speakers, websites and tweets of projects and their organizers) and the best world media. Each news is rechecked, and analyzed by the editorial staff, and also discussed live with authoritative experts. For the first month of work, the editorial staff of the radio station generated about 500 news items.
Our experts are well-known personalities, cryptoprojects organizers, specialists, software developers, investors, traders, analysts, government officials - officials, State Duma deputies and regional parliamentarians, organizers and representatives of educational, information projects, exhibitions and conferences, as well as industry specialists - science, education, Federal Tax system, and others.
Standing speakers and experts are also active members of the DASH community. There are 5 to 20 invited speaker-experts every day on the air of the radio. Further formation of the expert pool is under way. In addition to experts, our radio listeners constantly chatting with presenters. Interactive communication with them is realized in the our live ether Telegram chat, and via cell phone which gives an opportunity to call to presenters and give a comment to some themes on air. The inclusion of radio listeners in live broadcast occurs daily several times a day.
In addition to the news content, Radio+1 releases the morning, afternoon and evening talk shows on the current agenda, as well as author programs and podcasts:
"Blockchain Academy"
- the head of the academy Kirill Mikhailov talks about existing and promising blockchain projects.
"Koursach"
- leading on personal experience, presenters talk about different master classes and other educational projects they have tested;
"Coaching by the rules and without"
- the course of the famous business coach Ilya Rudnik on the practice of coaching in real business, and on real examples.
"Psychology on the practice"
- leads the popular psychologist Yulia Krasikova
"Crypto Astrology"
- entertainment show from the famous astrologer and psychoanalyst Alina Kuzmichuk;
In the near future, this list will be supplemented by programs authors in themes of economics, trading, ICO-projects, and legal issues of regulation in crypto-economics.
The most interesting programs are repeated on different time bands for the most convenient perception of listeners in different time zones around the world (we are covering 64 countries for now).
The information coverage of our project already exceeds hundreds of thousands of people. Part of the audience has already become our regular listeners. Detailed statistics about our audience can be disclosed in official sources only after the registration of Radio+1 as official media (we are already applied for a license).
In addition, we become informational and strategic partners, talk about them, and they about us, increasing the involvement of people, and we exchange unique news content, that also increases trafic to our website. Among them are all Russian DASH-resources, as well as general cryptoportals, conferences, start-ups, periodicals, scientific, educational and entertaining publications, exhibitions and digital conferences and successful business. This is our systematic and constant work.
One of the main tasks is to become the official media of the DASH project, and to create a media holding with the participation of DAO DASH.
Our proposals are formalized and sent to Dash Core
General Manager, Mr. Ryan Taylor.
To continue our work, we appeal to the DASH community for new funding.
On April 1, we jokingly asked for 5999 DASH.
In the description, we talked about a joke and, most importantly - about a very good idea, which we want to offer you a separate proposal. Please read the attached description. The real price of our budget proposal is 150 DASH per month for half a year.
For understanding, read our explanation:
https://drive.google.com/open?id=1w6VNXN67Kgx9Kai56_9uQk7qDXYKPD3K5CyJYN3iGwE
We believe in you, and ask the God not to lose faith in DASH, and people who have MNO votes!
We wish you every success, health, and growth of Dash.
Your first cryptoradio in the world!
Who cares about our project, if our project to you is not indifferent we will be happy for your help!
Donate us: XhK4ETtKxc8CuCudMsQFPjoKT2B9oZUMRA

Last edited: