Dash Community,
My name is Francisco "Cisco" Terreros (
Twitter
and
LinkedIn
) and I am 20-year executive in the sports industry, FIFA agent and, most recently, founder of World of Football NFT, the first NFT project and community to purchase and manage a professional football/soccer team. My team and I are interested in your feedback and guidance before officially submitting our proposal and before it appears on the blockchain for our community to vote.
Our story is very unique as it is the first of its kind, and there's no better way to explain it than with our first two episodes of "Making Forjaes," a mini documentary series (two 3:00 minute videos) that feature the process of creating our NFT community, then purchasing and managing a pro football club. I hope you enjoy.
Thank you in advance for any time you spend reviewing our videos and/or proposal below. Your time and feedback is valuable to us and will be considered prior to our official submission.
Proposal: Dash Sponsors Pro Football/Soccer Team In Portugal
World of Football NFT or WoF
, is an NFT brand with 15,000 members across its platforms and counting, bringing real-life professional football to the blockchain through a series of 4 NFT collections with both digital and real-life utilities like never been seen before in an NFT project (most prominently, voting rights for a 5th division professional football club in Portugal named Forjães SC).
On May 27, current members of Forjães SC voted "YES" on accepting Cisco Terreros and WoF as their chairman and owners of the club, making us the first NFT brand to own and manage a professional sports team.
.
Cisco Terreros (middle) with Forjães President, Antonio B (left) and club's Technical Director Fernando T (right)
As we embark on the remarkable job of operating Forjães SC, we are tasked with all revenue-generating assets for the club such as marketing sponsorships, jersey and merchandizing sales, and new membership sales, to name a few. With that, the long-term contract with our current jersey sponsor, textile giant "Etfor," has come to an end. For that reason, World of Football is seeking Dash as the official jersey sponsor of our jersey.
Why WoF and Forjães?
We were founded as the first blockchain group to take ownership of a professional sports team, disrupting the status quo of many layers of club ownership/management and the disconnect between rich and powerful owners and their local communities. What started out as an idea in 2021 has come full circle as a tangible and sustainable business. We've created a community of NFT holders that now own a historic club in Portugal.
Forjães SC is a beloved club with 55 years of history, rooted in one of the most quintessential towns in Portugal, the costal city of Esposende. With a rich history of football that dates back decades, the club draws generations of fans, season ticket holders and players alike.
Now that we've accomplished the monumental task of acquiring the team, our next goal is simple but no less grandiose. We aim to make Forjães SC the world's second team. Every football fan has a first team; the team you'll always feel a connection to and associate with nostalgic memories. Now, with the globalization of sports, the technology of web3, and the ability to connect with individuals around the globe with a simple click, we intend to make Forjães a team that anyone, from anywhere in the world, can passionately support, just like they do their first team.
We are no stranger to managing football teams either! Cisco Terreros, founder of WoF and chairman of Forjães, offers a deep resume of knowledge, successfully managing professional football clubs and building teams from the ground up. In the past 20 years, Cisco has worked for the Olympics, Real Salt Lake (professional football team in USA), Columbus Crew SC (professional team in USA), and most recently has worked as a FIFA licensed agent, managing more than 200 athletes and negotiating more than $40m in athlete transactions with some of the biggest clubs in the world.
Why Dash?
As its slogan states "Dash is digital cash you can spend anywhere," providing a unique solution to one of our problems... how does a DSO (Decentralized Sports Organization) pay its athletes, coaches and staff from across the world? As we began researching crypto-based solutions to make such transactions, one of our mentors, NFT holders and early investors, former CTO of Dash, Bob Carroll, suggested Dash and its easy-to-use wallet solution.
Our goal is to make Dash the main form of payment for our players and coaches, making it the first professional sports team to pay their staff in Dash, all while promoting the Dash brand to our blockchain-centric community and football community across the world, thus increasing wallet transactions with Dash as the main token.
For that reason, we, WoF, dream of having the Dash logo on our jerseys, promoting the service to our global fanbase.
The Proposal: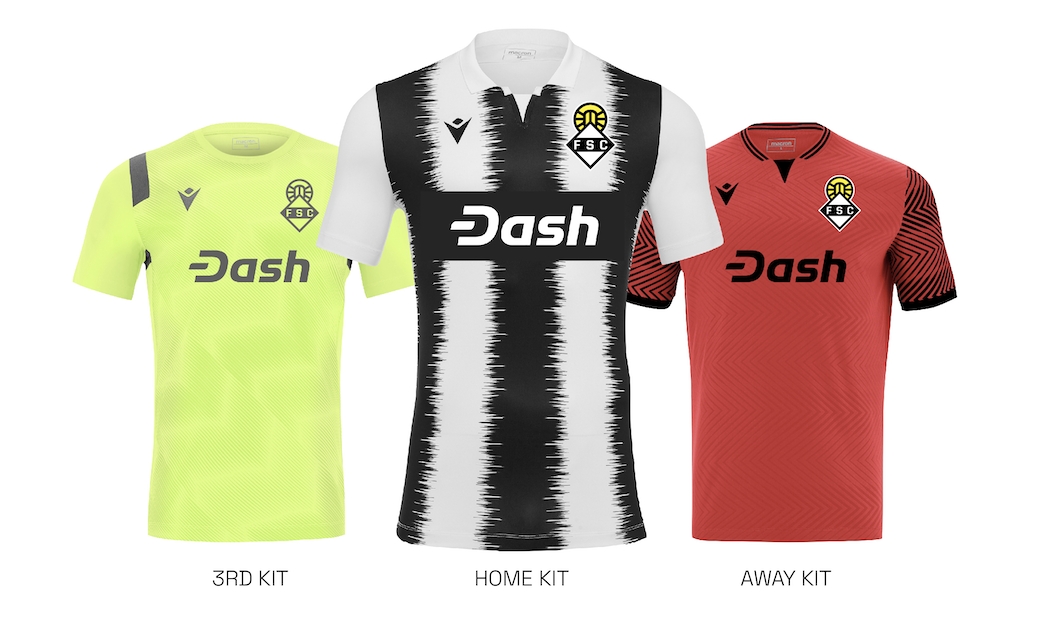 One (1) year deal
Dash brand featured on front of all jerseys and training kits (including home, away and 3rd jersey for senior team, all youth levels in Portugal and US)
One field banner at Forjães Stadium (visible during all home TV broadcasts)
Two (2) :30 second TV ads during all home broadcasts
"Match Recap presented by Dash " social media post, for every season-game
Season MVP presented by Dash, to be presented to the Most Valuable Player each year
A specially discounted shop-page and/or code for all Masternodes to purchase co-branded merchandize at cost (vs. retail)
We are asking for an investment of 500 DASH per month for 5 months.
What the money will be used for:
As you can imagine, operating a professional football club isn't cheap. In fact, a lot of sports fans have the misconception that owning and operating a professional sports team is a profitable endeavor and although it can be through equity and the evolution of the club (e.g. taking a club from 5th division to 3rd division), it is a very costly operation. For that reason, 100% of the funds generated from the jersey sponsorship will assist us in covering some of the following expenses:
Coaching staff monthly salaries
Medical and supporting staff salaries
Professional players' monthly salaries
Stadium operations' fees
Costs related to away-game travel (such as athlete per-diem, hotels, buses, and other related expenses)
Youth team ops, coaches and support staff salaries
Questions?
If any of you have any questions, please don't hesitate to email
[email protected]
Thank you for your time. We hope you feel inspired by our revolution and compelled to vote "Yes" for our unique and never-before-seen approach.
(For a complete look at our business plan, the Dash pitch deck and roadmap, please visit
this Google-Slides presentation
)
Last edited: