Hi All,
we are restructuring our approach and would like your inputs on the following proposal. As you guys suggested, we simplified and shortened the proposal.

We are also in contact with Dash Core, who are currently putting together the escrow agreement.
In the meantime we kindly ask for some inputs from the network as we add more information.


Proposal Summary
DappDapp has built a micro ecosystem using social media, more specifically messaging, as a platform.
Why Messaging and Why Dapp?
Because every relationship, friendship, corporate, celebrity, charity and service relies on communication… Thus, making it the single biggest part of life! To Dapp is to knock fists as a greeting or show of respect and is used all across the world, in all areas of life – as we believe DappDapp will, signifying the start of many communications through our monetized Private, Group and Public Chat features!
Communication is done through speaking, seeing, gestures, faxes, emails and of later years, texting and media!
Why Dash?
DappDapp will incorporate this with
Dash
as a global digital payment ecosystem, unlocking numerous use cases and monetization opportunities for all participants, allowing people to send
Dash
and micro
Dash
to each other across any borders by the touch of a button! In an instant, social media is no longer about likes and following but about real cash = Digital Cash! This kind of power in the hands of celebrities could change the way the world communicates and transacts (See Justin Bieber examples below).
Why the Ask?
Amount: 400
Dash
(2 months, in
Escrow with Dash Core
)
Option: Right of first refusal to an equity stake in DappDapp at a later date (part of escrow agreement).
The
Dash
we seek will be used for:
- Building switch technology and integration with
Dash
- Advertising and growth campaigns incentivizing and rewarding users for joining and participating in
Dash
, initiating activity with real digital cash, in real time, instantly!
Herewith our proposal:
The Perfect Storm
Over 7.4 billion people with 44% using smart phone technology for social networking.
By 2022, 59% of the population will be using smart phones.
All this whilst Social Media is fundamentally flawed due to user privacy violations, advertisement fatigue/distrust and a lack of value and governance for all participants.
At the same time, we see a trend of moving away from traditional banking channels and embracing faster mobile P2P (peer to peer) payments along with huge shifts towards popular, trusted and decentralized blockchain technologies.
Every perfect storm brings perfect opportunity
The stage is set for DappDapp to offer users real-time peer to peer payments, no transaction fees, along with fun, opt-in campaigns to earn rewards!
DappDapp is an ecosystem through chat, allowing people to send
Dash
to each other by the touch of a button.
Contributors and Users can also sell text, videos or selfies to each other or their social media following by owning and controlling their digital management rights (DMR).
Imagine the value that could be created if Justin Bieber could sell a selfie for the equivalent of 1c to his following of 60 million people!
Again, in an instant, social media is no longer about likes and following but about real cash = Digital Cash!
The DappDapp – Dash Solution:
Although the blockchain solves many problems: borderless, security, decentralisation etc.
It does face a challenge in the micro transaction space.
In its current state if Justin Bieber decided to sell a selfie for 1c using the blockchain as a payment mechanism, it would not be a success due to the following reasons:
1. Cost of mining each transaction
2. Scale millions of transactions would cause a bottleneck
3. Currently no social media platform to facilitate this campaign
This is where DappDapp comes in, we will make micro transactions possible by having and maintaining a centralized ledger, much like what the exchanges and some wallets do, allowing people to buy or earn small volumes of
Dash
and allow them to use
Dash
for micro payments within DappDapp, which can in turn be put back onto the blockchain again when the values become justifiable.
So, in the example of Justin Bieber, let's assume the earnings from the selfie was D0.00001 and 60 million followers bought it:
Earnings: cost x Volume
0.00001 x 60 million
= 600
Dash
@ $800 each
= $480 000 for a selfie!
Now what if the follower does not have
Dash
or a credit card to buy any
Dash
?
DappDapp has opt-in advertisements called Dappverts, which users can view at their discretion. Each time they do, they earn some
DASH
!
How does this work?
Advertisers will pay in
Dash
for Adverts on DappDapp, so let's say each advert costs the advertiser 0.0001
Dash
. A percentage of the advertising fee will be passed on to the user and his nominated charity as an incentive for viewing the Dappvert (advert).
There can also be further rewards, such as 0.001
Dash
if the user completes some questions about the advert or earn 15% of the cost of the product you bought back in
Dash
as a reward! Needless to say, competitions and other forms of customer engagements will also be supported.
The above is a brief summary of our proposal and we provide further resources for your perusal.
Please also see attached screenshots of what it will look like.
Thank you all in advance!
Kind regards
Will
Herewith some screenshots of where this is going: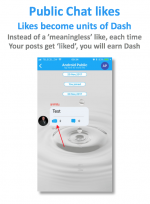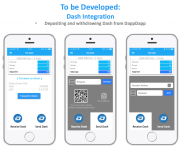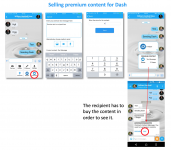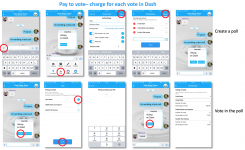 Last edited: