Last updates! 27/04
· We are working with Dash Core for the escrow of our next proposals ( 2 and 3 )
· AgroCognitive already have reached out to Dash Core to arrange an exclusivity agreement for three years. Right now Dash Core team is checking with the lawyers on the process to create this exclusivity agreement
· Check our last webinar for more details about our solution
AgroCognitive & DASH Digital Cash Project Video
Know what is AgroCognitive, why is DASH our currency and the benefits for farmers, people and the network
Want to know more details about why and how AgroCognitive will change your life? Watch this
We are proud to introduce our project to DASH Community:
AgroCognitive
AgroCognitive
is an ultimate solution to bring intelligence and agility to a new agriculture era.

What we do?
Today's global agriculture are facing a lot of challenges to supply food to a growing demand while taking care of the environment.
AgroCognitive
ingest a photographic crop registry to deliver descriptive analytics (what is happening in your crops), prescriptive analytics (what you should do to fertilize, hydrate, fumigate, etc) and predictive analytics (what will be your crop output).
AgroCognitive
, each time receive a photographies upload from a customer, it will invoice him the amount in DASH and receiving payment address. Once payment is confirmed, AgroCognitive will send a PIN to access his analytics. Additionally, as small farmers negotiate their futures productions with agro-industries to get cash in advance, we will propose part of this advance should be done in DASH.
In Venezuela, farmers can't exchange bolívares (VEF) to USD to get access to technology and supplies. AgroCognitive will bring DASH Digital Money to the fields and open possibilities to easily pay for this service using the new local exchange platforms under development (like Colibit, CryptoLifex both funded by Dash Treasury also), without any assets investments.

AgroCognitive's Operational Model:
Traditional agriculture
model is based on the extensive use of labor, methods of fumigation / nutrition by dispersion with high supplies costs and productivity per hectare below large farmers.
Precision agriculture
is much more efficient in supplies and productivity, however it requires large investments in technology and equipment.
AgroCognitive
is a service that will bring intelligence and precision to the field without requiring farmers does big equipment's investments (or have to make bank loans), to grow. Additionally AgroCognitive will offer some discount to customers using DASH:
Very small farmers in remote areas can access our service through trade associations that will buy analytical packages in DASH with a 25% discount
Medium farmers who require on-demand service and pay in DASH will receive a 15% discount
Agroindustrial companies will have a 30% discount for making their payments in DASH by prepaying AgroCognitive packages for their own crops and ecosystem of farmers that supply agricultural products.
In cases where the customer does not have his drone,
AgroCognitive
has signed alliances with business affiliates that provide the drone's service for photo's crop tracking (these contracts subscribed for payments in DASH)
There will be three modalities of contract:
Subscription for the complete cycle of one harvest,
Subscription for the annual periods,
On demand according to the requirements of the producer
AgoCognitive's Funding:
From the moment of its creation as a proposal for innovation, research, design, prototyping and presentation of
AgroCognitive
(in Venezuela and Costa Rica), USD 12,750 has been raised and invested, however for its implementation and training a funding is necessary, which is what we present to the DASH's Community for their acceptance.
The
AgroCognitive's
project funding project will last 6 months, time taken by the technical implementation (development, integration with the DASH exchange platform, payments, etc) and machine learning training. We will request the funds in the proposals including this one. The second one includes months 2,3 and 4, where we will be using Dash CORE's escrow. The last proposal is for the 5th and 6th month, also using the escrow with CORE team. For more details see the Implementation Plan.
AgroCognitive
will operate as a separate startup from the operations of Smartbase Group, so it will have its office, expenses and personnel assigned, as well as its revenues every time the services begins (scheduled for month 4). However, Smartbase Group as a sponsor and investor will fund USD 2,500 every month (at the end of project out total investment will reach USD 27,750). This will be the capital we could rise to show DASH Community our contribution and commitment to this project (see References section to full Cash Flow statement)
The following is the cash flow of
AgroCognitive
investment for month 1 (expected to start in May 2018), which will be approximately 92 DASH
During second month, we will be reporting and presenting advances to DASH FORUM to request funding for month 2, and so on until the funding injections is completed by month 6. In the reference's section you will see the full cash flow for 12 months, where you can verify how
AgroCogntive
becomes profitable after month 7 and starts generating revenue (all in DASH)
Implementation Plan:
Our implementation roadmap covers not only the technical and integration aspects with DASH, but also working with the farmer community to teach them the benefits not only of
AgroCognitive
for their business, but also how the use and adoption of DASH as money can bring them stability. and security to the countryside economy.
At these talks we are going to invite farmers, the suppliers / vendors, trade unions and distributors.
The follow is our milestone plan:
Who we are?
Smartbase Group is an innovation and technology small business company based in Venezuela offering machine learning, blockchain, analytics, and customer experience solutions to a cross-industry customers. Our team is formed by a young computer and electronic engineers, marketing and data science professionals and three partners committed with the digital transformation era and blockchain technology adoption.
Team:
-
Javier Soto - Commercial Director
-
María Victoria Jorge - AI Specialist
-
María Victoria Díaz - Consulting Director
-
Alejandro Romero - Makering Specialist
-
Carlos Spaggiari - Blockchain Specialist
Benefits for DASH
Entering the root of the productive and commercial chain of agro-industry ensures the adoption of

DASH

in a sector with a high circulation of money
The AgroCognitive project will carry out training work and participate in sessions with farmers' trade associations to explain the benefits of using DASH as real money, not only to pay for AgroCognitive services, but also to exchange materials and supplies among their community
We will promote agro-industrial companies that include incentives for the pre-purchase of a crop from

DASH

farmers, this will guarantee that the farmer already has DASH as part of his income, so we guarantee a circular flow
The cash flow of AgroCognitive at the close of the first phase with two trained crops, by April 2019 we will have sent more than 25,000 transactions in the DASH network for an equivalent of 350 thousand USD
AgroCognitive will offer discounts incentives for receiving payments with DASH
DASH will be the only one cryptocurrency accepted
References:
Technical architecture: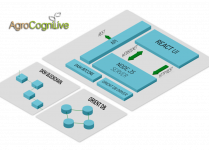 Cashflow :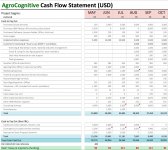 Awards:
AgroCognitive participated in the Cognitive Challenge Latam 2017 contest, qualifying to final round (with just 3 other solutions over more than one hundred participating) and won the People's Choice Award as "the solution will change people life in future"

Reference in other languages
Last edited: