Dear Community,
I am in bitcoin community since mid 2012. I was very young so I decided to not only do various stuff around cryptocurrencies but to study as well. Fortunately I finished university education recently. Since november 2015 I started exploring different cryptocurrencies in search of scalable cryptocurrency as I really hate to not only pay high-fees that bitcoin is transitioning towards.
Since January I decided to establish
dashpay.cz
site about dash for Czecho-Slovak community and
Facebook
page as well that I am mantaining and promoting regularly on various places as well as on bitcoin meetups. I have already organized one meetup in Brno - second biggest city in Czech republic.
Very recently I saw data from this site: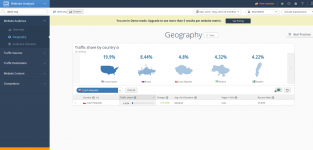 - source
https://www.similarweb.com/
So I believe that my activities were likely efficient as I know that my activities impacted thousands of people.
Strategy for this project
Strong community is the best thing for all kinds of goals that Dash relies on. I believe it is better to build stronger foundation and see local companies (exchanges, bitcoin trezor and a lot more) and investors move toward our solution with some marketing toward that but only as a complementary thing.
Budget alocation
1650USD @8.45 = 195,26 DASH --> 195 DASH
for three months, even thought it will require new submission to new governance engine after this month.
Plans
:
Bring more relevant people to dash.org pages or dashpay.cz (for those that speak only czech) --> more adoption, merchants and more investors

via Various marketing channels (most importantly website + newsletter and FB) - with focus described below

Create more local language content with most important informations in video form

It will be different style than Amanda probably, yet I will try to bring fast translations for Amanda videos about Dash to Czech because it makes zero sense to make the same thing twice)

Facebook channel - maintain on more regular basis - daily
Twitter channel - create and maintain
Meetups - speak about dash on regular BTC meetup in Prague as main topic.

There are tens of important figures of czech crypto scene every week

Get more press coverage of topic - preparations and explorations already made
Example of video production:
Focus:
Bring 60% of current bitcoin users/enthusiasts/companies closer and closer to dash and show the good that are dash's advantage
20% - bring it to economists and other profesionals that could be a source of propagation toward more people
20% bring it to completely new people
(in longer-term - increase percentage toward new people as Evolution is coming as Evolution will be great for new people)
Another plan:
My friend and entrepreneur in Slovak republic could bring awaraness to Slovak people that understand Czech language very well (we used to be one country before 1993) - high priority - this could get done very fast as relationships are very good and there was some comunication about this issue
Explore Switzerland market and try to kickstart Switzerland comunity as they could be strategicaly important and I will be likely in touch with some people in comunity in less than month and I have some good partner there as well
I would like to manage Swiss comunity as well untill they build their own organization - it will be more efficient for them but some cooperation would be beneficial for both sides
Risks and mitigation
There are risks of not being able to execute some part/s of plan. These risks are very likely to be mitigated as I know czech community and they know me so I will be able to find different ppl to cooperate with.
Video production - there might be unforseen challenged but it will be very easily fixed as I will move to bigger town where it will be very easy to get in touch with required skills.
Comunication requirements:
It will be very good to have good and up-to-date informations from core team. But it will be of a great value to have information about analytics of dash.org so that it will be easier to analyze impact of this project and to have bigger impact toward goals.
Reviews

I will review progress made on dash forum every month.
Contact info
[email protected]
Vote Please
https://www.dashwhale.org/p/czsk-community
dash-cli mnbudget vote-many 5a1a64636b15a7be8e79ccb5c79c54561e297ca8394d215f577e14d2a3a54999 yes
My other relevant experience
Webdesign project management + some administration - e.g.
jirikucik.cz
,
jerabnik.eu
Investment strategy 4+ years
Last edited: