Hi Dash Community!
My name is Alex. Some of you may know me on discord as
@Dash-Al
(#1455). A little bit about me, I've been in the crypto space since early 2015. Like many I started with Bitcoin and did a lot of outreach through LocalBitcoins. I joined the Dash ecosystem in late 2017 and I am personally heavily invested in Dash. I am currently working with the Dash Watch team to help increase accountability within the ecosystem. As a result, I am always looking for ways we can improve our governance system.
One aspect of our treasury and proposal system that I thought could be more robust is how treasury project funds are managed. I think in particular that these funds should be handled by a reliable escrow company. In looking for escrow agents in the crypto space I came across Good Attorneys at Law, owned by Ari Good JD LL.M. I reached out to Ari because his website showed an interest in and knowledge of cryptocurrency (he accepts payment in Dash too!) We've been talking back and forth over the past few weeks and have come up with a proposition of how we can bring his professional services as an escrow provider to Dash.
Before I present the proposal description, I want to clarify that this proposal is not "my" proposal. The proposal belongs to Good Attorneys at Law, though I have taken the courtesy of introducing and outlining the proposal because I know the governance system better. I am putting my reputation on the line, but I believe in Ari's professionalism and services. We are not asking for any treasury funding, we are here to present another escrow option and want to get the community's opinion.
Proposal Description
Good Attorneys at Law will act as a legally bound 3rd party escrow agent that will deal with holding and releasing funds. Determination of funding release guidelines will be handled by another party such as Dash Watch.
Executive Summary
Good Attorneys at Law is legally able to act as a 3rd party escrow agent. Licensed attorneys in the state of Florida can act as escrow agents without any additional licensing;
Good Attorneys at Law will enter into a legally binding agreement with proposal owners so that funds are released appropriately and according to specific milestones. Good Attorneys At Law, PA will, at the proposal owner's request, help craft the project milestones and other key, up-front contractual provisions;
Good Attorneys at Law will have knowledge of and monitor the progress of each of the proposals they handle, however, they will thereafter only be responsible for managing and releasing the funds. They will not be involved in arbitrating any disputes that may arise. Those issues will be handled by another party such as Dash Watch;
No proposal fees will be requested from the treasury. Rather, they will request fees from the proposal owners. The fee structure is outlined in the Budget section of this proposal.
Budget
Good Attorneys at Law is not asking for any treasury funding. Instead, fees will be requested from proposal owners with the following structure. All amounts are in the US dollar equivalent of Dash. Fees are paid in Dash according to the market rate at that time: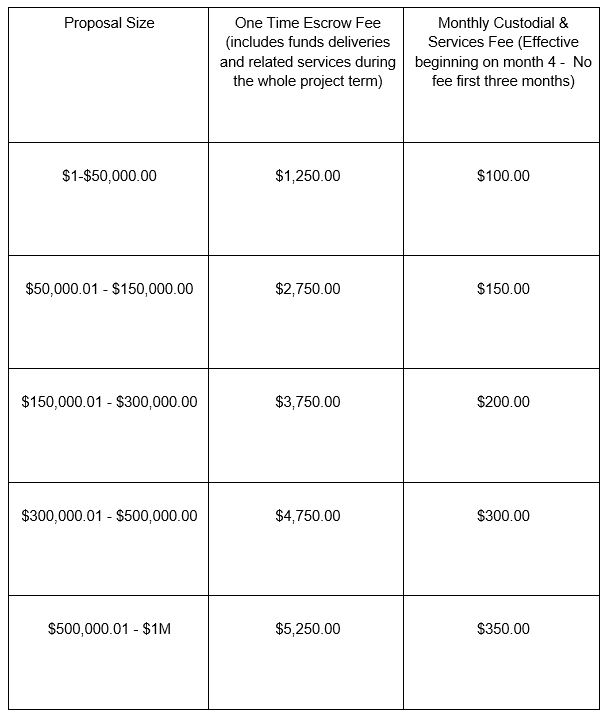 The justification for the fees are for the reimbursement of services, risk and time. The professional handing of escrow documents and the related legal guidance is a specialized service that justifies a fee. Ari has hired an enterprise level security firm and invested in specialized hardware that supports a secure, cold storage system. We believe the fee schedule is very competitive compared to other escrow providers. There are free escrow providers in our current system, but good service providers do not come cheap. After the contracts are in place, Ari's sole duty within the Dash ecosystem is handling the funds professionally and according to the contracts, providing faster turnaround times, better security and greater dedication versus other providers.
Deliverables/Milestones
Proposal owners should reach out to Good Attorneys at Law in the pre-proposal stage after they are close to finalizing their milestones and budget with their third party "auditor". Dash Watch has offered to stand in as a neutral third party to help develop milestones and when they have been achieved.
Good Attorneys at Law will deliver the following for each escrowed proposal:
A legally binding, USA-compliant escrow contract between proposal owner and Good Attorneys at Law;
Funding release agreement document based on specific deliverables as outlined by proposal owner and auditing party;
Enterprise-level protection of proposal funds. A contingency plan is in place if escrow agent (Ari Good) is incapacitated;
Fast turnaround of funding release – within 3 business days of milestone completion verification
Schedule
Good Attorneys at Law is currently working with a security company implementing funds protection. Escrow services will be available on or around May 3rd.
Below we prepared a sample timeline for an escrowed proposal that will be in the May voting cycle.
May 1st - Proposal owner contacts Dash Watch with a clearly laid out roadmap including milestones and budget.
May 2nd – May 7th – Dash Watch reviews proposal milestones and budget for clear, measurable deliverables with specific dates. Dash Watch works with proposal owner on an agreed-upon funding release timeline that corresponds to the project milestones.
May 8th- 10th - Good Attorneys at Law will provide a wallet address for designated funding lane.
May 11th- Proposal owner posts pre-proposal with escrow terms laid out for the community.
May 18th – Proposal owner posts proposal on Dash Central. Proposal fee is paid by proposal owner, who then then ask for reimbursement in the proposal if they choose to do so.
May 31st – Voting Ends. Good Attorneys at Law will prepare escrow documents.
June 3rd – Funding received by Good Attorneys at Law. First agreed-upon payment will be received within 1-3 business days in Dash. Future funding will be released in accordance to completion of milestones and verified by Dash Watch.
Benefits to Dash
Fully Compliant Professional Service – As a bar-registered law firm in the state of Florida, Good Attorneys at Law is legally able to act as a 3rd party escrow provider. This brings a "next level" professionalism to the Dash treasury system. This would be the first law firm to offer escrow services to the Dash ecosystem.
Experience – Ari Good, President of Good Attorneys at Law, has over 20 years of experience in law and over ten in tax law. Ari has handled escrow matters for clients in both fiat and crypto-currency and is one of few lawyers in the United States that offers this kind of service.
Checks & Balances System – Good Attorneys at Law is the first escrow provider that will strictly act as a holder of funds. This creates a system of checks and balances so that the individual/group holding the funds is separate from the individual/group who decides when funds will be released.
Specialized Service – As the treasury system grows, we should look for groups to begin specializing in their areas of expertise. This dedicated service will result in faster turnaround, better value and an overall better experience.
In closing, we would like to emphasize the value in professional handling of escrowed funds by Good Attorneys at Law. They have put forward a very reasonable sliding scale fee structure for the additional protection a law firm brings. We have already discussed with Dash Watch and they would be happy to act as a neutral 3rd party auditor to verify milestones and deliverables. This would seem to be a natural extension of what Dash Watch is already doing. A marriage of Good Attorneys at Law and Dash Watch would bring a great value to the Dash Governance system.
If you have any additional questions please comment below!