Mar 21, 2017
93
19
58
31
Dash Address

Xkzf7mz4kMjq8FjhqMhLHPmQ3oipJRTJm9

Dash Haiti General Adoption and Marketing Proposal

May - July 2020


Table of Contents
Executive Summary

Proposal Scope

Previous Activities of Dash Haiti

Why Dash For Haiti?

Budget

Team

1. Executive Summary
Cryptocurrency is innovative enough to impact the future of youth in developing countries. It was formed with the financial crisis of 2008 and its task is the facilitation of financial transactions through a technology called blockchain. Not all cryptocurrencies offer the same ease of use. Dash, however, is an example of success. It has potential for both currency transfers and purchases of goods and services, and with Evolution, it's use can increase. Dash is however little known to Haitians. Our community existed back in 2016 and with our fund and some support we had realized a lot of things. So now we think that with Evolution coming and major recent political happenings and local money devaluation, we want to show the Haitian people the benefit of the Dash alternative with the same benefits for their financial freedom.
We did a lot of meetups in the past, but now we want to create awareness about Dash in Haiti with this proposal.
Since our 3 years of existence we have organized small meetings to promote Dash, which we have found to be insufficient, utilizing the support of our donors. We now think that we are ready to start a big promotion of Dash in Haiti. We want to be clear that our project is a long term project that includes:
The implementation of strategies to promote Dash and to make it known on a national level. These strategies include; recruiting and training agents at the departmental level to coordinate the activities of Dash Haiti in their locations, creating an educational portal with videos to allow people to know how to use the platforms, buy, sell and setting up a system for transferring funds locally and internationally.
2. Proposal Scope:
The team want to promote dash in the country with using these activities:
Due to the Covid19 people can't go out, So we will use social Media to make our meetup this time.


Campaign to create awareness about Dash on Social media


Creation of a network of Dash users in the country, We have 10 States in the country we will recruit 1 person in each state to be in our Dash Team and they will also be a Dash ambassador in his state. And we will give them tools to work as an Agent for Dash promotion


Dash campaign to recruit merchants to accept Dash as a method of payment.


Recruit 6 International Agent in Brazil, USA, France, Canada, Chile, Dominican Republic for helping Haitian people in these countries and cover our activities to help people remittance Dash in Haiti


We will also make new videos about technical tips on how to install a wallet, how to buy and spend Dash.


Upgrade our Website and make it more attractive


Partner with some Haitian influencer to promote Dash

Target audience
We want to promote Dash through all Haitians who are able to use the technology. Haitians living in the country and those living abroad who often transfer money for their loved ones or family here in Haiti. The audience also includes businesses, investors.

3. Previous Activities of Dash Haiti
We organized severals meetups https://www.facebook.com/dashaiti/events/


A Youtube channel with 3 videos about introduction to dash and blockchain in our native language


We own a website and social media account
www.dashhaiti.com
https://www.facebook.com/dashaiti/
https://twitter.com/dashaiti


We were featured on Radio emission(Capitalize) in Canada.
4. Why Dash For Haiti?
Since the commencement of the Dash Haiti community, we have organized several meetings in Port-au-Prince and the State of Grand'Anse. Now we want to grow our activities, starting with meets up and discussions gathering all over the Haitian territory and for that, we need funds to continue and expand the growth of Dash cryptocurrency. With Dash Haiti, we want to help people of our country and also those living in the Diaspora on the benefits of cryptocurrency and Dash mainly, to invite them to use Dash in the future to send money for their family within Haiti and outside, also as a means of payment for goods and exchanges. Our main goal is to promote Dash permanently in the country, Haiti. Kindly click here to view the debate on this topic.
https://www.Dash.org/forum/threads/Dash-as-world-money-transfer-for-unbanked-people.17781/page-2
The team will also finish with our website to put more information on it. We also have a facebook page
https://web.facebook.com/Dashaiti/
As Venezuela, a South-American federal republic and many other poor countries currencies are losing value, with high growth rate of inflation, it is more important to introduce people to this best alternative and secure currency that with all the benefits we all know. Cryptocurrency is growing in Zimbabwe, Nigeria and Ghana, so Haiti is a country with similar characteristics with those countries. People have to start with the adoption for businesses and are well-informed on cryptocurrency specially Dash. That is why I joined the community in this fight for financial freedom, in a long time to educate people on the Dash cryptocurrency and also invite them to use it for daily financial activities
https://lenouvelliste.com/article/2...ontournables-en-matiere-de-rentree-de-devises
.
Again, international transfers from Haiti are worth $550 billion, these transfers come from everywhere, the lines of transfer offices are never empty and this can be seen all over the country. These transfers represent about 34.4% of the GDP. Given this large market, we feel it is important for Dash to benefit from this market as well.
So if we can look at Haiti as a country with low financial means, high money transfers and companies that do not have a reliable financial solution, we can deduce that Dash can solve everything for the people of this country financially.
WHAT ADVANTAGES AND BENEFITS FOR DASH?
Dash, is the first cryptocurrency to have such attention in the country, so people will adopt Dash as their only cryptocurrency. It's like one first Love, you will never forget it. In the past, people only participated in Ponzi and MLM scheme referral programs. We will also clarify the difference between cryptocurrencies and these scam things. More than 20000 new wallets will be created. The team will work to make Dash cryptocurrency adopted in Haiti . When we say cryptocurrency in Haiti, then they say DASH. People will learn better about Dash, and how to change their financial life with the Dash cryptocurrency.
Again we will have a lot of things to do including a remittance system, merchant adoption, integration and other stuff that can help Dash use more in the country because that is the goal. This proposal is just a first proposal to promote Dash in the Country.
5. Budget
61 Dash per month for 3 months @80 usd per Dash
Description
Price ($)
Marketing materials (Videos, graphics, prints): 2000
Tips for new users: 500
Team remuneration(1 Community Lead, 1 Marketing lead, 1 Support, 10 Local Agent, 6 Internationals Agent): 1000
PR in local newspapers and radio stations and social media promotion: 800
Website upgrade: 150
Partnership with influencer: 300
Total: 4750
Proposal fee: 5 Dash
6. Team:
Emile Joseph Micarlo
,
@carlomile2
(Telegram, discord, Twitter, Dash.org/forum) is a
Computer engineer, had a degree in Network and telecommunication at the University of Quebec, in Montreal. Also a cryptocurrency enthusiast.
Mr. Micarlo worked in the sphere of cryptocurrency with Airbitz, Kickico, Openledger, Qryptos(Quoine), as Community Manager. He is the Team Leader of the Dash community in Haiti and educates people about cryptocurrencies while he is a big fan of cryptocurrency and its entire ecosystem. Leads Dash small presentation activities for over 2 years in Haiti.
Toussaint Josias
, an Agronomist by profession since 2011. Consultant at the Ministry of Agriculture for projects financed by the IDB (Inter-American Development Bank. He has love for cryptocurrency.
Mr. Josias has been actively in the cryptocurrency for more than 4 years in the cryptocurrency community in Haiti. He is passionate about the cryptocurrency in which he invests and ready to let Dash grow in Haiti.
Joseph Lygens
, an Agronomist since 2011 and holds a Master's degree in Food Science and Technology in 2015. A UNDP accredited consultant and independent consultant. He has 4 years of experience in cryptocurrency and blockchain for which he has a great passion. He is the top leader of the cryptocurrency community in Haiti, crypto-consultant on the Haitian market. He gave a talk in the event on Fintech organized by the BRH where he interviewed on the blockchain.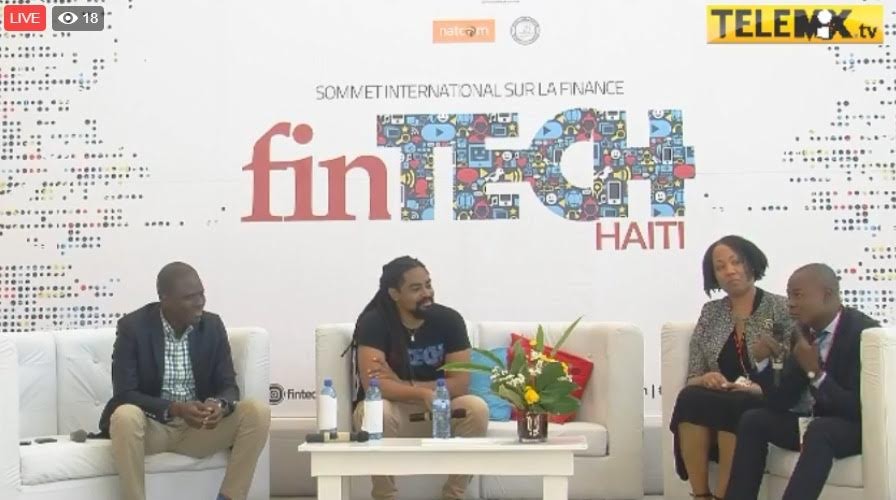 Lygens with the Mic, giving a talk in Fintech Event in Haiti.
Some Pictures of our past Small meetup.