Price reduced!

I have two (2) Innosilicon A5 DashMaster X11 ASIC Crypto Miners with factory Power Supply Units (PSUs) and Heavy-Duty Power Cords in hand!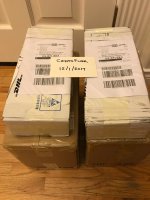 Please note! This is NOT an offer to purchase a pre-order for an A5 from the Innosilicon factory! Who wants to pay to wait?​
I'm selling these for $8,999 each. That's $1,300 less than what you would pay if you ordered from Innosilicon today, and had them shipped from Dongguan, China (I will show you the invoice).
I have two (2) units available at this price. My loss is your gain!
Includes the A5 DashMaster miner, along with the PSU, which was purchased directly from the Innosilicon factory (not a third-party).
It is brand new, in-hand, and in an unopened factory-sealed box (see picture above).
It includes a 180-day parts warranty and step-by-step troubleshooting support by Innosilicon factory representatives.
I will help facilitate all communications with Innosilicon in the event you have any issues whatsoever.
Please note that "miner abuse" such as "excessive overclocking", without proper cooling and ventilation, voids the factory warranty.
This latest version is the most energy-efficient and powerful ASIC Crypto X11 Miner on the planet!
Don't buy the earlier model, which is rated at 30.2 Gh/s! Every hash counts!
Out of box, the A5 DashMaster is ready to mine Dash (Digital Cash) at a Hash Rate of 32.5Gh/s (+/- 8%) @ 750 Watts (in normal mode)
It is possible to achieve 38 Gh/s @ 840 Watts when overclocked (see previous note regarding "miner abuse").
This is the latest model (November 2017 Batch) and was received from Innosilicon today (12/1/2017).
Don't wait any longer! The December 5th-15th batch is already completely sold out!
Shipment includes everything you need to start mining today:
1 x Innosilicon A5 DashMaster Crypto Mining ASIC
1 x Innosilicon A5 PSU (Power Supply Unit)
1 x Tripp Lite 10-ft. Heavy Duty 14AWG NEMA 5-15P to IEC-320-C13 Power Cord
I am more than happy to use an escrow service! Shipments to US addresses only, please.
Please PM me if you have any questions. I have included a picture of the A5 DashMasters and PSU boxes, along with my forum user name, and today's date as proof that this offer is legitimate.
Last edited: